Feeling the Cost of Living Crunch? Save Money on underwear with these Savvy Shopping Tips
Feeling the Cost of Living Crunch? Save Money on Briefs with these Savvy Shopping Tips
The rise in prices is affecting every aspect of British life… from our energy bills right down to our knickers. Follow these tips to save on briefs.
Getting the most out of your money is tough right now. Times are hard and your salary doesn't spread through the month like it once did. The cost of living crisis has prices up on all fronts, and wages have all but frozen. This bleak financial frontier even extends to our briefs. Have no fear. Here at Needundies, we have just the money saving tips you need to buy more underwear for less.
Shopping Tips for Saving Money on Briefs
Shopping online for affordable underwear? Try these shopping tips from the Needundies.com underwear experts to bag a bargain on women's and men's briefs.
Try Sloggi 24/7
Sloggi are one of our favourite high quality, low cost underwear brands. Sloggi are a UK underwear manufacturer known for combining comfort with durability, and great pricing with a mind for sustainable materials. Sloggi women's briefs contain as much as 91% cotton. This makes them comfortable to wear next to your skin and breathable in all the right places.
Sloggi Basics are a good quality and comfortable brief. However, we recently began stocking the Sloggi 24/7 range. Returning customers will know that we only add an underwear collection to our own range of products after careful consideration. The Sloggi 24/7 collection includes Sloggi 24/7 Cotton and Sloggi 24/7 Microfibre ranges, offering reliable, soft and great value for money briefs.
Sloggi 24/7 Cotton – Great Value Briefs
May we draw your attention to the Sloggi 24/7 Cotton collection. These compare very favourably with the Sloggi Basic range briefs which are slightly more expensive. The come in three colours: White, Black and Brush (Nude), a colour for every occasion.
The Sloggi Basic Cotton Maxi multipack has always been a popular choice with our customers, so why not take a look at the better value Sloggi 24/7 Cotton Maxi Brief 3 Pack, offering the same Sloggi quality at a better price! With superb styling, full coverage and a high cotton 96% content this everyday brief multipack features soft refined seams creating the ultimate in comfort.
Sloggi 24/7 Microfibre
Want to up your comfort level another degree? The Sloggi 24/7 Microfibre range features a super soft, breathable, stretch microfibre fabric for superb all day comfort and is an underwear drawer essential for the more active women. The collection includes a high leg 24/7 Microfibre Tai brief, a fuller fit 24/7 Microfibre Maxi and a hip fitting 24/7 Microfibre Hipster brief and are available as single of multipacks of three.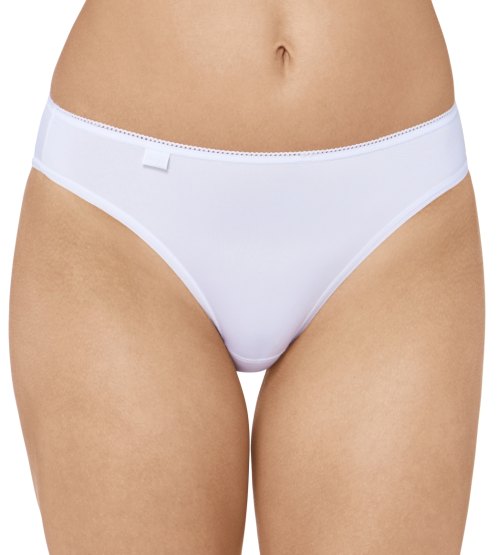 Take Advantage of Discounts
If you are the kind of person who likes their undie sets to match, then search for discounted underwear sets online. Shop at the end of the season or take advantage of discount periods such as the January sales, Black Friday, or Spring sales.
Check your Size
Save yourself money on briefs by buying the correct size of underwear. Unlike most items of clothing, you cannot return underwear once you have tried them on. Measure your size using a UK sizing chart. You can use our bra size calculator tool to help you work out your band and bust sizes for matching underwear and bra sets. Briefs that fit perfectly are good news for your confidence, too.
Buy Multipacks
Shopping for multipacks of underwear helps you to save money on briefs during the cost of living crisis. We have some brilliant money saving multipacks of underwear in our online shop. Some of our most affordable sets include the Sloggi Feel Natural Tai 3 pack, Maxi, 100, and Midi sets. Arguably the best value for money in our multipack sets of underwear are the Sloggi Control Briefs. Control briefs are notoriously expensive, so this double set is a bargain.
Shop for Quality
Shopping for high quality underwear will help you make the most of your money. Sometimes buying dirt cheap products seems like a good idea, when really we will have to repeat our purchase in a few weeks or months' time. Of course, you ought to change out those underwear every six months to a year anyway, but we don't always remember to do so. How old are your pants? Is it time for an upgrade?
Shopping for quality briefs doesn't just make your money go farther long term. Shopping this way is the ethical choice for those worried about their carbon footprint. Quality products last longer, saving material from landfill. Underwear cannot be resold in charity shops when it no longer fits you. The only option is landfill. The UK alone sends an average of 350,000 tonnes of clothing to landfill each year. Don't contribute your pants if you can help it.
Follow on Social Media
Following your favourite underwear shops on social media will give you a heads up when new products, discounts, and offers become available. It's the best way to bag a bargain. You can find us on Facebook, Twitter, and Instagram.
Where to Shop for Affordable Underwear in the UK and Online?
Needundies.com have provided high quality underwear to satisfied customers since 2003. Based in the UK, we ship internationally and even offer 30 day returns on all orders – and you don't get that from your average online underwear shop. Choose from your favourite brands such as Sloggi, Anita, Triumph and Royce, for comfortable, affordable men's and women's briefs.
Why Shop for Briefs with Needundies?
Discreet packaging so your neighbours won't see what you bought
International delivery & free UK delivery on orders over £65
Simple returns and refunds
2 decades of professional underwear sales
A carefully curated selection of high quality, affordable briefs
Shop online today with Needundies.com to take advantage of great deals in underwear. Your briefs should be the one place you don't feel the squeeze.