Why Underwear Makes a Great Gift
Whether it's a birthday, anniversary or other special occasion, it can be difficult to find the perfect gift. Thankfully, the huge range of lingerie on offer from NeedUndies has something that the special lady in your life is guaranteed to love! Luxurious, special and oh so sassy, underwear is the ideal gift for girls of all ages and sizes. To help you out, we have compiled this useful guide to choosing the perfect item!
Birthdays
Birthdays are a great occasion to buy for as you can go either end of the flashy scale. If your recipient is more of a casual kind of gal, a Sloggi Hot Lips Light String and Sloggi Hot Lips Light Hipster combo is the perfect gift. Comfortable enough for everyday wear, these silky smooth, no VPL briefs are great for under tight jeans and slinky dresses alike. And with the sassy flower embellishment at the hips, they are most definitely gift material! If you want something a little more lavish, choose something that features lace detail, luxurious fabric and a flirty cut.
Christmas
Are you on the search for a perfect Christmas present that is both practical and luxurious? While bras and knickers are fantastic, for something really special, why not wrap up the stunning Irall Mirabelle 2 Red Satin Nightdress? With its sexy deep red colour, sumptuous satin material and ultra-feminine cut, it's the perfect way to inject a little spice into the festive season! If you're searching for something playful for a best friend or sister, look for bright colours, pretty patterns and comfortable, everyday designs.
Anniversary
If your anniversary is coming up, there is nothing sexier than presenting your lovely lady with a gorgeous lingerie set. For the ultimate in sultry smalls, the Triumph Amour Spotlight Wired Bra and String Brief is a beautiful choice. Featuring delicate lace detailing and a gorgeous scalloped semi-transparent design, the pieces will make your lover feel a million dollars.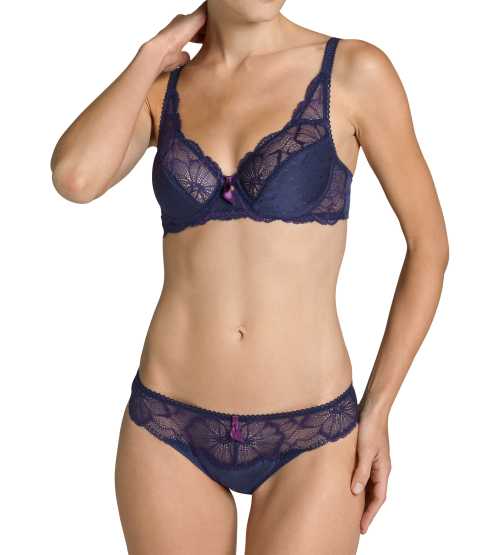 Tips to choosing the right size/style
- If you live with your lady, it's as simple as taking a sneak peak into her underwear drawer and note down her size. Make sure you pick something she's worn recently though to ensure maximum accuracy. Don't worry if you don't recognise the number, NeedUndies has a handy international sizing chart that you can refer to!
- If you're buying for a friend and aren't sure of her size, try noting down what garments she pulls of the rack when you're next out shopping together. Generally, she should take the same size knickers as she does trousers size.
- Taking note of what your recipient is into can be a useful way of deciding what style to go for. For example, if she loves sweating it out at the gym, a new sports bra would make a great gift! If she's prefers to hit the town in her sexiest outfits, something a little fancier would be ideal.
Armed with these handy tips, you'll be able to purchase the perfect gift for the special lady in your life! Whether you're searching for a sexy lingerie set or a fun yet practical pair of briefs, the fantastic collection at NeedUndies has you sorted!