How Sloggi Long Leg Briefs Came To My Rescue!
How The Sloggi Long Leg Knickers Came To My Rescue!
Underwear is something we use every day but let's face it, we do not really think too much about it's purpose other that it protects our dignity, makes us look and feel good and keeps us comfortable.
A few months ago I had the misfortune of falling in the garden, badly fracturing my femur which resulted in a major operation and a long rehabilitation.
On the first day following my operation I had to get out of my hospital bed to begin my physiotherapy session. Reaching for my underwear to protect my modesty I was dismayed to find that the leg openings of my existing briefs were too restrictive, the seams were digging into my wound and due to the swelling my legs were rubbing together and chafing making me feel very uncomfortable, I needed a solution and fast!! Then I remembered about the Sloggi Long Leg briefs, one of my wardrobe staples during the hot summer months.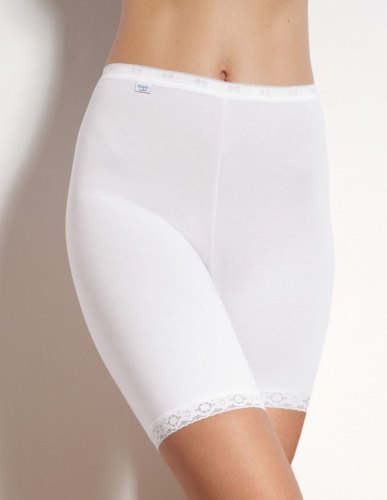 The Sloggi Long Leg knicker is made from 95% cotton fabric with a high waist, no side seams and a longer leg to prevent chafing.
What is chafing? Well chafing refers to skin irritation caused by friction between skin surfaces, often resulting in redness, itching, and sometimes in severe cases blistering. It is commonly seen in areas prone to rubbing such as the thighs and can be caused by simple activities such as walking or extended periods of sweating. To prevent chafing, it is recommended to keep skin dry and lubricated, wear appropriate clothing such as long leg briefs, and to avoid repetitive friction.
As I slipped a pair on it was just absolute bliss! the soft, stretchy material felt light, cool and comfortable against my skin and the absence of side seams meant the fabric rested easily against my wound with no irritation. The high waist with the soft elasticated waistband made me feel supported and the the longer leg prevented any rubbing to my very swollen legs.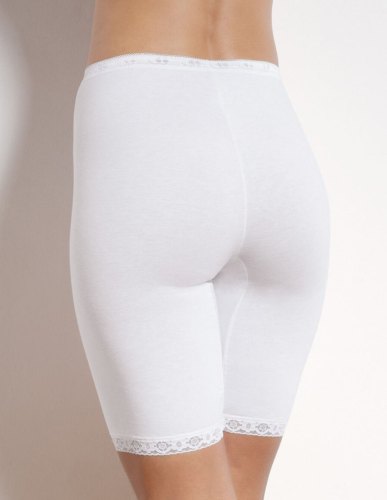 I wore them to my follow up appointments for x-rays and examinations under all types of clothing, such as skirts, dresses, trousers and shorts as the leg length is perfect and most of all they were extremely comfortable and modesty protecting! I even wore them at night to prevent chafing of the inner thighs.
In summary the reason I have written this review is that I cannot praise the Sloggi Long leg brief highly enough and I went on to wear them all throughout the following summer weeks when the UK temperatures reached record temperatures and my wound was still healing.
Thankfully six months on from my operation I am almost back to full mobility and now it's the winter months the Sloggi Long is still a favourite only now they are used to keep me warm!!
Elaine, Needundies
---
Key Product Information
To ensure you have all the information you need before you buy Sloggi Long Leg briefs here are some key facts about the design:
Fits from a size UK 10 to a size UK 26
No side seams, smooth, flat, centre seams.
High waist and full coverage.
Machine washable to 95°C / 200°F, can be ironed, can be tumble dried.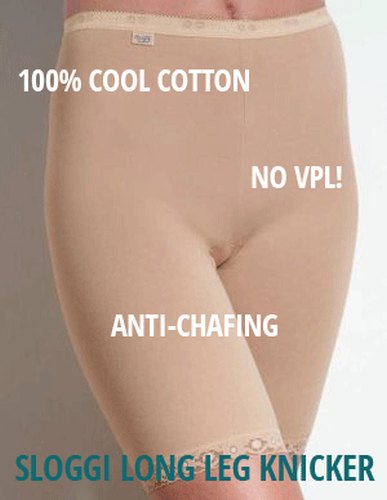 The Sloggi Basic+ Collection
The Basic+ collection from Sloggi is our most popular women's Sloggi ranges thanks to the versatility of the collection which include everyday essentials including Sloggi Midi briefs, Sloggi Maxi briefs and Sloggi Tai briefs in single and great value multipacks.