Triumph Doreen Bra Review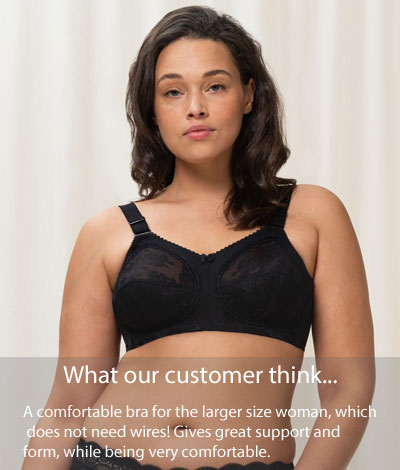 Why Customers Love The Triumph Doreen Non Wired Bra
The Triumph Doreen bra is a popular and well-known bra that is beloved by many women for a number of reasons. One of the main reasons why women love the Triumph Doreen bra is because it is incredibly comfortable to wear. The bra is made from soft, high-quality materials that are gentle on the skin and don't cause irritation or chafing. This makes it a great option for women who are looking for a bra that they can wear for long periods of time without discomfort.
Another reason why women love the Triumph Doreen bra is because it provides excellent support. The bra is designed with full-coverage cups that provide plenty of support for the breasts, helping to prevent them from sagging or bouncing around. This makes it a great option for women with larger bust sizes, who may have trouble finding bras that provide enough support to keep them feeling comfortable and secure.
In addition to its comfort and support, the Triumph Doreen bra is also beloved for its stylish design. The bra is available in a wide range of colors and styles, so women can choose the one that best fits their personal sense of fashion. This means that they can easily find a Triumph Doreen bra that they love, whether they want something classic and timeless or something more modern and trendy.
Finally, women love the Triumph Doreen bra because it is affordable. Despite its high-quality materials and construction, the bra is priced competitively, making it a great option for women who are looking for a high-quality bra without breaking the bank. This means that women can enjoy all the benefits of the Triumph Doreen bra without having to spend a lot of money.
Customer Review - "A very good comfortable and well fitting bra with wide straps and easy three bar closing at the back. I have worn this bra for over 10 years now and cannot find another to better it. - Gina
About The Triumph Doreen Bra
The Triumph Doreen bra is a comfortable and supportive option for everyday wear. This full-coverage bra features soft, breathable cups that provide a natural shape and lift, while the wide straps and band ensure a secure fit. The Doreen bra is made from a blend of nylon and spandex, which allows it to stretch and move with your body. The back closure has three rows of hook-and-eye closures, allowing you to adjust the fit to your specific body shape. The bra also has a wide, cushioned underband that helps distribute weight evenly across your chest, reducing the strain on your back and shoulders. Overall, the Triumph Doreen bra is a reliable choice for comfortable, all-day support.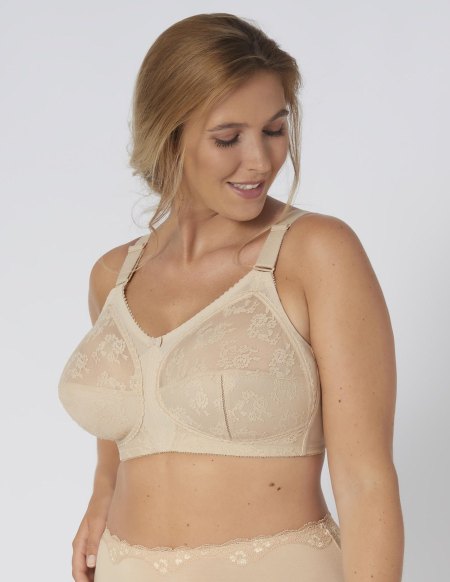 Key Product Information
To ensure you have all the information you need before you buy the classic Doreen Bra here are some key facts about the design:
Wirefree, Non Padded & Full Cup .
Fits Underbust size UK 34 to 48
80% Polyamide, 13% Elastane, 7% Cotton Fabric.
Machine washable to 60°C / 140°F, Do not Iron, Do not tumble dry.
Take a look at the Triumph Delicate Doreen
Looking for a more modern, retro bra? Then why not take a look at the Triumph Delicate Doreen bra, an updated, more current twist on the classic Doreen. This beautifully crafted bra offers both style and comfort. Made from high-quality materials, this bra features delicate lace detailing and soft, comfortable cups. The adjustable straps and hook-and-eye closure allow for a perfect fit, while the fuller, wide under bust band provides amazing support. Whether you're looking for a comfortable everyday bra or something special for a night out, the Triumph Doreen Delicate Bra is the perfect choice.