What Is A Sleep Bra – Why every girl should have one
For decades, women have faced the age old debate of whether or not it's necessary to sleep with a bra. Whether you're beautifully busty, alluringly average or fabulously flat chested, all boobs need support during the day, so why shouldn't this concept extend to the bedroom. To help shed some light on the matter, we're honing in on the best-selling Anita Sleep Bra and looking at the benefits associated with wearing support to bed!
What is a sleep bra?
The Anita Sleep Bra is a specially engineered garment designed for use as a maternity bustier but the design and comfort also makes it ideal for the bedroom and most of our customers wear it as the perfect sleep bra.
It's not advisable to wear padding or underwires to bed which means that the Anita Sleep Bra is 100% soft, seamless and wonderfully comfortable. So how does it offer support? The garment is crafted with round knitted microfiber which hugs the breasts for a snug and supportive fit.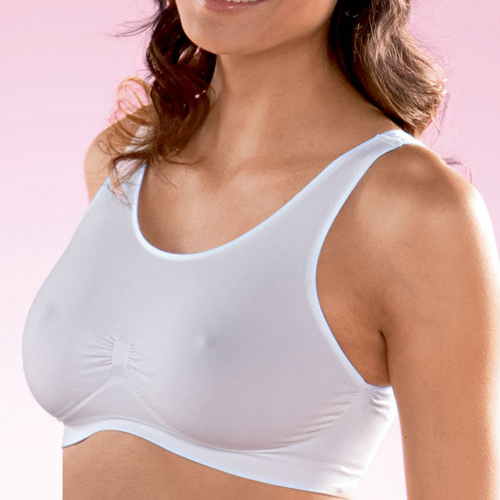 Is it good to wear one?
The major reason for wearing a sleep bra is to support the breasts while you slumber. At the end of the day, gravity always wins which means that over time, most boobs will become saggier and less perky. We support our breasts during the day so why not at night? With bras as comfortable as the Anita, it's like they're barely there!
Linda Becker, bra fitting expert of over 25 years explains, "Here's the logic. Either your breasts are being supported for eight hours, or they're not being supported for eight hours. What do you think is better? It's just common sense. If your breasts are being held up, they're going to stay up a lot longer. When you take your bra off at the end of the day, they're a lot higher than when you put it on in the morning."
Sleep bras are also fantastic for pregnancy when the breasts swell and require extra support. The ultra-comfortable stretch fabric allows the breasts to grow with your baby which makes for perfect support, no matter how many months pregnant you are.
The Anita Sleep Bra also makes a fantastic post-surgery accessory. For ladies that have gone under the knife, leaving the breasts unsupported for eight hours can result in tenderness and pain which can jeopardise the healing process.
Aren't they just for a larger bust?
As expected, experts advise that big breasted women stand to benefit more from wearing a sleep bra. This is purely because bigger boobs need more support – both for comfort and cosmetic reasons! That said, smaller chested women can also reap the benefits of sleep bras by keeping their assets supported around the clock.
Is it healthy to sleep in a bra?
Over the years the media has sensationalised the health risks associated with wearing a bra to bed - from hindering blood flow and irritating the breasts to causing cysts and even cancer. The reality is that these risks are only associated with wired or padded bras. A simple soft bra which is designed for the bedroom is 100% safe. Becker says, "Women should never sleep in a bra with a wire, it should be a soft-cup bra. Sleeping in a bra with a wire can give you cysts or irritate your breasts."
Are you convinced that a sleep bra could be your new favourite bedtime companion? Snap one up today from the Needundies website for the discounted price of just £14.40!