New Mum Loves The Royce Blossom Nursing Bra
Introduction
This new mum loved the adjustable Blossom Nursing bra from Royce so much she asked if she could provide us with a full product review. We hope that Nicola's review will be of help to other new mums out there looking for a fantastic nursing bra solution.
Nicola's Review Of The Royce Blossom Nursing Bra
"I have to admit I was slightly daunted at the prospect of choosing a nursing bra and being a first time mum I imagined once my baby was born I would struggle to find the time to go hunting for the perfect bra.

Some of the concerns I had about buying a nursing bra during my pregnancy were: When is the best time to go try on maternity/nursing bras? Will my breasts change size again once my baby is born? Will the bra I'd bought several weeks earlier then be too small?.
I mentioned my worries to my friend Gill who works at Needundies and she recommended I try nursing bras on during my third trimester and as a guide; the bra should fit on the tightest setting at the back comfortably allowing room to be loosened when needed. She also mentioned a new bra which would be coming into stock that may be suitable, the 'Royce Blossom' adjustable nursing bra. I looked at several styles both on the high street and online and found an inordinate amount of plain white cotton nursing bras but nothing much else.
I bought the Royce Blossom bra to try and initially I was sceptical about the triple cup sizing but true to the description this bra really does 'Blossom' with you! I started to wear the bra a few weeks before my baby was born and I'm pleased to report that I'm still able to wear it 2 months after the birth of my baby boy. The bra is super soft and stretchy and it has expanded when my breasts have swollen in size. I did purchase a few other nursing bras but I have found it irritating when I've had to keep swapping and changing my bra in order to stay comfortable all day long.
There is a hidden drawstring at the front of the bra, when I pull on the cords and tie them into a bow, the bra transforms from a crop top to a plunge style bra. I generally keep my bra in the plunge style rather than the crop top style as I like to wear v-neck t-shirts and vests.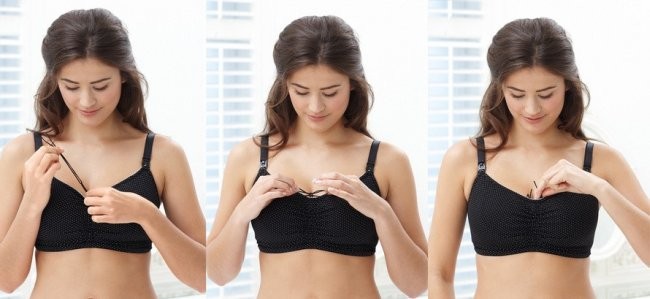 The bra has been washed numerous times over the past 12 weeks and still remains in good condition. It is a pity that the bra is only available in the 'Black with White Spot' option as I would have loved it in white or nude so I could have worn it under light coloured tops. I am also disappointed the manufacturers haven't produced a matching brief as I like to wear matching sets of underwear.
Overall I would definitely recommend this bra for new mums for these main reasons:
It is practical and good value for money as it stretches over 3 cup sizes, you don't need to go buy 3 different sized bras!

It is pretty and feminine

It is very comfortable
Please Royce bring out more colours and matching briefs!"
Update 28/11/13 - You will be pleased to learn that Royce have now brought out an Animal Print design for the 'sassy' mummy :)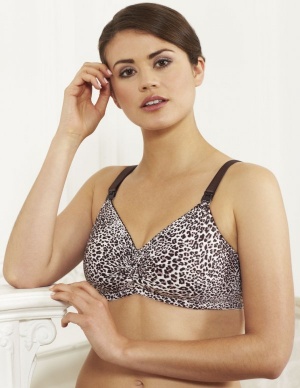 Watch The Video TO Find Out A Bit More About This Fantastic Nursing Bra!
I really hope you have enjoyed this review from Nicola, I am sure she will be doing more great reviews for us in the future!