We women come in all shapes and sizes - that's what makes each and every one of us uniquely beautiful. So, when it comes to finding the perfect underwear, it's not a 'one size fits all' situation.
Mainstream fashion is unfairly homogenised, and unless you're part of the 1% of the population who has a body like a Victoria's Secret model, it's a challenge to know how to go about buying flattering underwear that suits your body.
And it's not all about your dress size: what might look fabulous on a size 14 hourglass figure might not look nearly as nice on a size 10 pear shape. It's important to remember that we are all different shapes too - and that's a good thing!
If you're tired of never quite feeling your best in your underwear, here is our guide to finding the right lingerie for your body shape. Next time you're shopping for lingerie, make sure you choose the style that works best for your shape, and we guarantee you'll always feel confident and comfortable - whether you're clothed out and about, or undressed in your bedroom...
Choose your shape from the list below, and discover what style of pants and bra you should choose next time you're browsing for underwear.
Narrow Shoulders & Wide Hips
Also called the 'pear' shape, if your hips are your widest point and you have narrow shoulders, it's best to choose underwear that broadens your shoulders and flatters your hips as this balances out your figure. To broaden your upper body, choose a bold bandeau bra as this will help accentuate your chest area. To flatter wider hips, choose high waisted briefs. This will keep your tummy tucked in and elongate your legs, as well as controlling and shaping your lower section.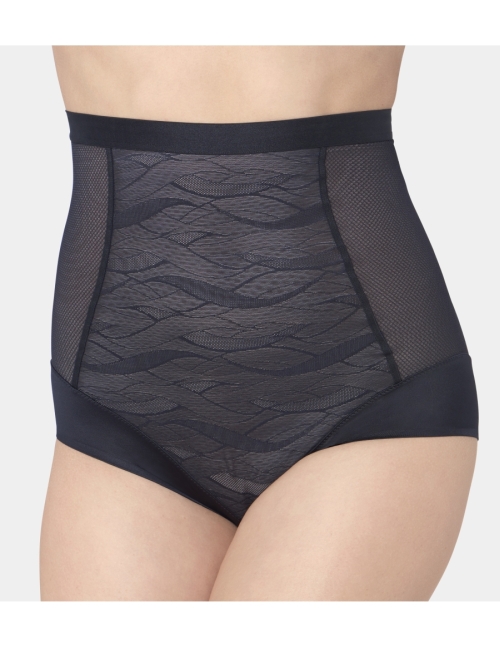 Wide Shoulders & Narrow Hips
If you've got wide shoulders and narrow hips, your underwear needs to be focussed on accentuating your lower half to create that desirable hourglass. V-shaped knickers and a deep plunge bra is a great place to start, as these will elongate your torso. Another trick is to use high-waisted, high-leg briefs that hug around your waist at the narrowest point, and elongate your pins at the same time.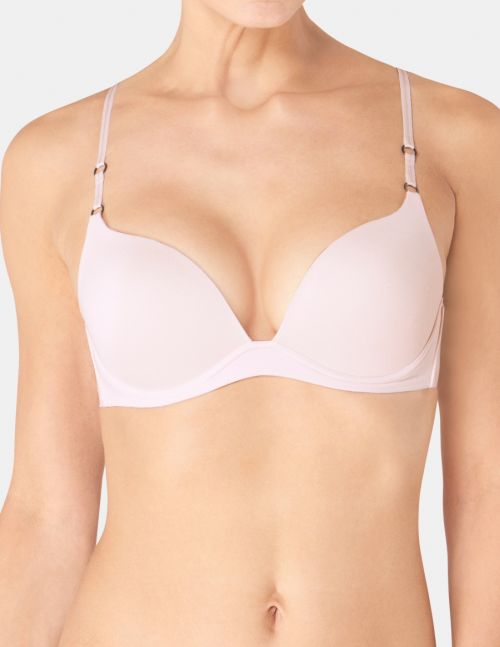 Straight Up and Down
For rectangular body shapes, it can be a challenge to find underwear that helps you feel feminine and sensual. All body shapes and sizes are gorgeous, but if you're slim and have narrow hips and shoulders, it's easy to get lost in an industry that puts the emphasis on curves. The best underwear that will fit and make you feel feminine is all about enhancing the bum and boob areas. Opt for pants with horizontal stripes, ruffles and other details around the waist line and, of course, padded bras. By boosting your assets, you create the illusion of a more defined waist and a more curvaceous silhouette.
Hourglass
The hourglass is the eternally sought-after body shape in the western world - and you're lucky if you're naturally born with this shape! However, it's important to pick the right underwear to do your enviable figure justice. The best bras for the hourglass shape are those that draw attention to your bosom without overcompensating: plunge bras and balconettes are a great choice. When it comes to pants, embrace your inner pin-up and accentuate that narrow waist and wider hips with high-waisted briefs or a high-legged thong.
Fail Safe Tips for Buying Underwear
Whatever body shape you have, there are a few things to remember when you are underwear shopping that will narrow your search and get you the best undies for your budget.
1 - Choose Natural Fibres
Pants and bras made from pure cotton or silk are better for your skin, and can be worn all year round whether it's hot or cold. Choose high quality cotton underwear that is made to last at Needundies.
2 - Mix and Match Sizes
You might be a different size on top from the bottom, so buying a pre-packaged underwear set isn't always the best way to go. For example, if you have a pear-shaped body, you'll probably need a larger size on the bottom than on the top.
3 - Get Yourself Fitted
Measure yourself properly, or, even better, visit a professional bra fitter, to make sure you're getting the right size and shape bra for your body. Not only will you look amazing, but you'll be considerably more comfortable - and your posture will be better too.