How the Classic Men's Y Front has Withstood the Test of Time
Over the years, there have been many trends and statements made in both men's and women's fashion. More often than not, however, they are traded in for something new and not always as stylish in hindsight. While shoulder pads, flares and even platform boots have come and gone, the y-front remains a popular go-to choice for men around the world.
Jockey Y-Fronts date as far back as 1935, selling more than 30,000 pairs in the first 90 days on market. Needless to say, if you were to look at the typical dress of the time you would be hard-pressed to find anything commonly worn today. So, what is it that has made these briefs the underwear of choice for multiple generations?
Comfort
If there is one thing that men look for in underwear above all else, it is comfort. It is no secret that men's underwear is not as varied as the female alternative, with men generally having the choice between two main types of undergarment – the y-front pant and boxer brief. Whilst they do come in various styles and fittings, most men's underwear can be filed under these two categories.
Y-fronts offer support for men which makes for comfortable wear, no matter the weather or situation. Whether a man is sitting at his office desk, working up a sweat or relaxing on the sofa, the classic Jockey Y-Front suits all occasions. The support and hold, that was and still proves to be a big attraction for men, has certainly been much of the reason why the underwear continues to be a big seller with no signs of slowing down.
Flattering Look
We wear clothes that make us look good which then, in twine, makes us feel good. It is no different from a woman wearing a dress that flaunts her figure. When a man opts for a pair of Y-fronts, they are following in the footsteps of sex icons such as David Beckham, Zac Efron and even James Bond himself, Sean Connery who have famously been pictures modelling a pair. Whilst no doubt capturing the imagination of a female audience, the men that such media is aimed towards gives them something to aspire to.
Jockey Y-Fronts won't just provide you with confidence from the physical support they offer, but by showing your body off in a flattering way. How the material hugs the body can make for a rock-solid and masculine appearance, the kind of which you associate with Hollywood heartthrobs. If you are perhaps looking for a way in which you can spark the interest of your other half, spicing things up in the bedroom department, you won't go far wrong with something along the lines of these.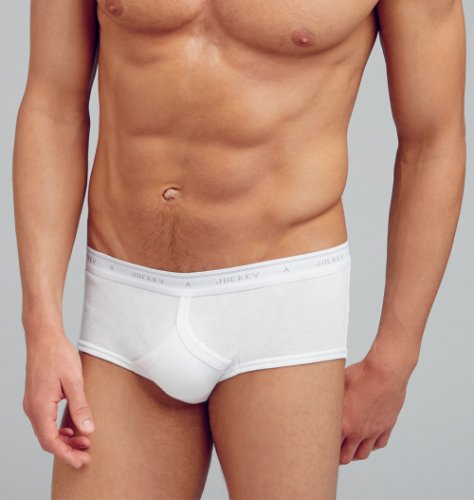 The Evolution of the Y-Front
While the look and feel of the Y-front has predominantly remained the same over the years, the underwear has undergone a subtle transformation since its initial introduction in the 1930s. One such change is the addition of the elastic waistband which did not feature in its earlier designs, as well as manufacturing of pants in different colours rather than block white. This lends itself to extra levels of comfort, as well as offering an element of individuality that was not otherwise offered at first.
Jockey continues to modernise the brief with its designs, keeping the Y-front at the forefront of male fashion. Undoubtedly, without fresh takes of the old faithful Y-fronts may not have remained such a popular choice for men around the world as they continue to be today.
Buying Jockey Y Fronts from Needundies
While so many of our customers have come to us because they have been unable to find a local retailer that stock Jockey Y-Fronts, we are proud to continue to offer a wide range of the underwear and will continue to do so. From the classic Y Front to cotton rib sports briefs, you can find it all here at Need Undies, with briefs available to suit most sizes delivered to you both in the UK and globally.
Whether you are buying for yourself or the man in your life, we guarantee complete and total customer satisfaction. Alternatively, you can also view the wide range of men's briefs available from our website if you feel that these timeless classics are quite right.
Should you have any questions that you would like answered, please feel free to send a message to our team today via our contact page and we will aim to get back to you as soon as we can.