Cropped Top Bras: The Best Option For Comfort And Style
It's important to find silver linings in even the most trying of times—okay, so you can't go on holiday, eat out at a restaurant, go to parties—but you can finally dress for comfort. There is no more cycling through bras trying to find one that matches day in and day out, and no more forcing yourself into something because it looks nice. And when it comes to comfort, nothing can beat a cropped top bra.
Here's our lowdown on what makes crop top bras the must-have item for comfort and understated style, as well as our guide on how to find the best crop top bra for you by picking from our fantastic selection of products.
Are Crop Tops Better Than Bras?
If you're working from home, you're going to be spending long hours at your desk, on the phone, at meetings, and throughout all that, the last thing you want is the nagging sensation of pressure that wired bras can give you. That digging sensation just won't go away. There's no such issue with a crop top bra with the comfortable feel of the fabric against your skin, exuding no additional pressure.
Are Crop Top Bras Good For You?
A healthy body is a comfortable body, and a crop top bra will help look after your body in a gentle and supportive way. But first, the bad news—even if you're not leaving your home, you still need to regularly wear a bra. However in comparison to other options, a cropped top has its advantages. As more restricting options can hinder the blood flow to your chest, a crop top bra will be able to help your breasts relax, breathe, and facilitate a healthy blood flow!
Embrace A Stylish Natural Look
With a crop top bra, your body will look like it should, with gentle support and breathability, all your natural curves and contours will be accentuated, and you'll look great in a way that says, "I'm embracing my body!" What's more, you can experiment with a wide range of new and exciting in-trend looks— whether it's paired with a distressed tee or a stylish blazer— layering a crop top into your look can give you true fashionista style.
When To Wear A Cropped Top Bra
One of the most significant benefits of crop top bras is their versatility. They can be worn alone as a top or under a sheer shirt for a more subtle look. They are perfect for low-impact activities such as yoga, Pilates, or even as a comfortable everyday bra.
The Push-up Option
Push-up bras have come a long way and are now an ideal option for many people. With a push-up bra, you will get the benefit of:
● Boosting your cleavage without sacrificing comfort;
● Providing your bust with support; and
● An option you can wear with pretty much any look.
Push-up bras are an ideal option for most women, as they can provide for those with smaller and larger busts. For the former, they provide lift and accentuation, making your curves stand out. And the latter will enjoy the comfort that the extra padded support provides.
However, if you have wider-set breasts, say a gap of 3 fingers-width or more, then a push-up bra isn't the best option for you.
Here at Needundies, our crop top bra selection has the ideal push-up option if that's what you're looking for. The Sloggi Zero Feel Push Up bra is all about fabric so light, you barely realise you have it on at all! The soft material feels great against your skin, and the balconette padding gives your curves the support and flattering form they deserve.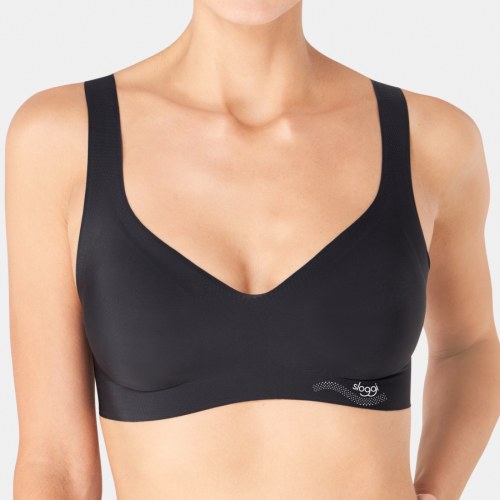 Comfort Strap Bra
For many of us with fuller busts, finding a bra that gives you the support you need can be a very uncomfortable problem, but if you've been dealing with this discomfort, a comfort strap bra will be perfect for you. A comfort strap design does exactly what it says – wider straps that ensure they don't dig into your shoulders and padding that will help alleviate your discomfort. The sum effect is distributing the weight more evenly across your bra, providing more comfort and support.
You'd expect a bra offering comfort straps and a crop style to be the name when it comes to comfort and support, and with our Sloggi Double Comfort Top, that's precisely what you get. It's easy to see why this one of our best-selling crop tops, as its wide straps offer a stretchy fabric that puts less stress on your body, all while providing ideal support. There's also a comfort double-layered underbust to give even more support without sacrificing comfort.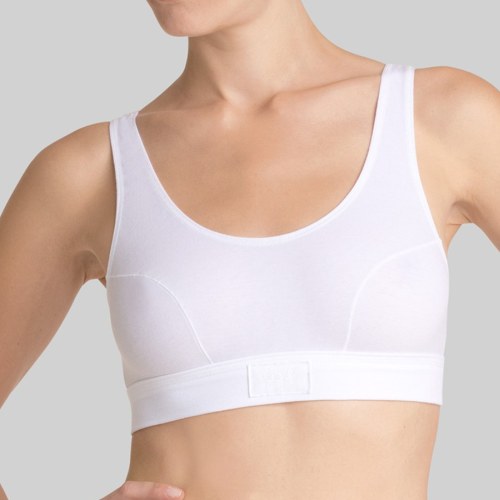 Whether you're buying a crop top bra or any one of our other excellent choices of lingerie, you can count on Needundies to provide you with quality and reliability. We've been fulfilling orders throughout the Covid-19 pandemic, and our delivery times typically range between 5-10 days. Click here to browse our range of bras, or if you have any questions, send us a message through our contact page.
Post last updated 15/03/2023