Last weekend was very exciting for the Needundies team as we headed to our Video Media partners to create our very own product videos for the website! We hired two models to join us on Saturday morning to be the stars in our video clips, which should hopefully bring you a wealth of information about some of our favourite bras.
We Loved The Studios!
Upon arriving at the studios we were greeted by Ian -the man behind the camera and our two stunning bra models for the day. The studio was a vast white space with countless lights and props complete with changing rooms that even had bulbs around the mirrors, our models felt like celebrities.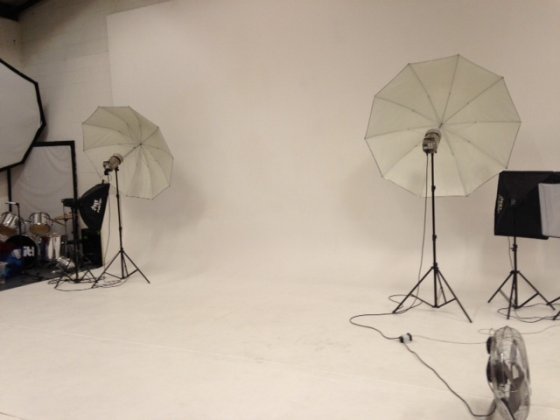 As we couldn't possibly shoot all the bras we have available to purchase on the website, the needundies girls had selected a variety of bras from across our supplier ranges for our very first studio session.
The first bra of the day to be captured on film was one of the worlds best selling bras, the Triumph Doreen Soft bra. We wanted to see every angle of the bra so myself and Andrew directed the model to stand facing the camera for 15 seconds, then carefully turn round to show the back of the bra and pause for 15 seconds, and then to slowly turn back to the camera twisting slowly from side to side for 15 seconds. We felt as a company that to see the bra on a human being, live and from every angle is a great aid when purchasing a bra for the first time. The videos were all shot in full HD so you should be able to see any intricate detailing on the bras. Now not only can you see the bra you can also see how it should fit as well.
The Triumph Doreen bra is a classic non wired bra which looked fantastic on our model. As our model was an F-cup the bra had 3 hook and eye fastenings which meant the back panels were deeper than that of a B-cup which is the only cup size in the Doreen range that has 2 hook and eye fastenings. Our model was very impressed with the support that the Doreen bra gave without any underwires and the uplift the three section cups gave her.
The Doreen has front adjustable straps so the model was able to easily adjust them herself to create the perfect fit, which meant I was able to get the next model ready!
After 3.5 hours we had filmed a total of 45 bras and we were really pleased with the outcome! We even had some fun at the end of the shoot, with the models testing their favourite sports bras of the day, by jumping around on a trampoline and sparring in boxing gloves!.
Why not follow the Needundes YouTube Channel to make sure you keep up to date with our latest lingerie videos.