Walking to work this morning I could feel the wind whipping around my legs and on arrival at work I even had a rose tinted blush to my cheeks. Gone are the months of having bare legs or wearing sheer 10/15 denier tights, I need to stock up on some warm, thick, 80/100 denier tights!.
My husband works on a construction site and during the winter months even though he wears trousers he feels the cold. Last year when we experienced plummeting temperatures and freak snowfalls, I bought him long johns with a fleecy interior which insulated his legs against the winter cold. The long johns had soft ribbed cuffs which meant the warmth was trapped inside and the cold wind couldn't get to his legs.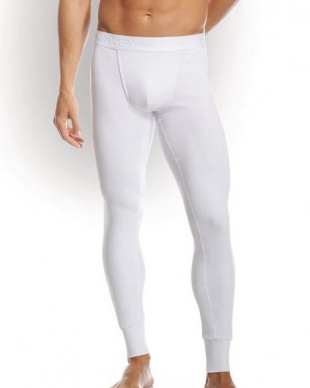 Thermal underwear is becoming a popular choice amongst men and women of all ages and sizes adding discreet extra warm layers. As energy prices go up (again!) this year I dare say the popularity of thermal underwear will increase also, as every measure we can take to reduce our bills the better! Also our bosses are likely to be turning down the thermostats at work as every penny saved is a penny added to the company's bottom line!.
Thermal underwear buying guide
Thermal tops, vests, briefs and longs should all fit snug to the body, do not purchase if the layer isn't close to the skin.
Buy separates rather than an all-in-one solution; this allows you to remove layers and allows for ease of using the bathroom!.
Do not be tempted to over-layer this can result in restricted movement and a bulky appearance.
Buy separates rather than an all-in-one solution; this allows you to remove layers and allows for ease of using the bathroom!.
When trying on the garment: move around, try sitting down, bending over or stretching upwards, the garment should move with you like a second skin!.
Look out items containing polyester and viscose these materials allow the skin to breathe and wicks away any moisture from the body keeping you dry and warm. If moisture was allowed to settle onto a fabric such as 100% cotton it would cool you down, making you feel cold and damp.
Traditionally thermals were a basic range of thick underwear available in an off-white colour worn by the mature generation. However men and women of all generations are now wearing thermals as they have become more streamlined and discreet, with modern styling and the introduction of colour.
Men who wear long johns or over knees under their trousers or denim jeans are pleased manufacturers' have launched thermal ranges in colours black and navy and some items even include fly openings!.
Ladies fashion includes a variety of necklines, lengths, shapes and styles therefore it is essential that there is a variety of thermal underwear styles to choose from! A thermal vest is the most popular garment ordered by ladies as it can be worn under most types of tops however; there is an increasing demand for camisoles, short sleeved tops and even long sleeved tops. To add a feminine touch to thermal underwear designers add a lace trim or a discreet bow to the neckline or even a subtle pattern across the weave of the garment.
Caring for your thermal underwear
If the garment has a high wool, polyester or viscose content the garment must be hand washed at a maximum temperature of 40 degrees.
If the garment has at least 50% cotton it can be washed at 60 degrees and can be machine washed however hand wash is preferable.
To prevent the garment shrinking, it needs to be reshaped whilst damp.
Do not tumble dry the garment as this can cause the snug item to become tight and restrictive!.
With long range weather forecasts predicting a fierce return to winter with record snowfall and freezing temperatures and large energy companies British Gas, NPower and SSE raising energy prices by approx 10% we are looking at a cold and expensive couple of months! With ladies quality thermals costing an average of £10 to £15 and quality mens thermals costing between £15 and £20 I would recommend stocking up on thermal underwear to keep you warm and cosy and lowering the temperature on your thermostat. After all, your thermal underwear will keep you warm long after the heating switches off! Also thermal underwear can be worn all day when you are away from the house and you won't suffer have that awful cold 30-40minute delay on evening when you get in from work whilst you wait for the heating to warm up the house brrr.!

View Womens Thermal Underwear Range