It may surprise you to hear that you could have been wearing the wrong bra size all your life.
According to Harper's Bazaar, up to 80% of us may be making the mistake of wearing a bra that actually doesn't fit us properly. Those stats might sound quite dramatic, but it's not the end of the world - and wearing the wrong size is easily done.
For a lot of women, it's hard to find a high street underwear shop that sells their size anyway, so many of us simply make do with the closest fit.
Bras can be a pain at the best of times, let alone when they're not properly fitted. Here is the definitive guide to knowing if you're wearing the wrong size, and how to measure yourself easily at home so you can check.
This is a tricky question. It's certain that wearing an ill-fitting bra can create an overall unflattering shape, but is wearing the wrong size actually bad for you?
Some sources have published articles, like this one from The Conversation, whose headline outwardly condemns the ill-fitted bra as a cause of serious health issues. On closer inspection, these end up being lists of symptoms many of us will encounter on a day-to-day basis - grooves in the shoulder, raw skin, and back pain to name a few.
There is little evidence showing that wearing either the wrong size bra size, or no bra at all, is seriously bad for your long term health. However, the physical and psychological effects of ongoing discomfort shouldn't be disregarded, as they themselves can lead to further health issues down the line.
One of the reported problems associated with wearing the wrong bra size is an increased desire for breast reduction surgery, implying that the issue can contribute to body-dysmorphic thoughts. Another is that, over time, posture can be affected if breasts aren't supported properly.
Typically, women wear a cup size that is too small, and a band size that is too big. Avoid wearing the wrong size bra, and get yourself measured - or do it yourself at home.
How to Measure Your Bra Size
Measuring your own bra size is very simple, and it can make the world of difference to your everyday comfort. It can also transform underwear shopping from a frustrating experience into an enjoyable one.
You need just two things to measure your bra size:
- An unpadded bra - the best-fitting one you own
- - A soft dressmaker's tape measure
Step 1: Band Size
Using a soft dress makers measuring tape, measure around your torso directly under the bust line, keeping the measuring tape snug against the skin, and level. Make a note of the number in inches.
Step 2: Bust Size
Make sure you're wearing an already comfortable non-padded bra, and measure the distance around the fullest part of your breast, keeping the tape measure level, and being careful not to pull it too tight. Make a note of the number in inches.
Enter both measurements into the bra size calculator below and click "Calculate", please note that no calculator can be completely accurate and is reliant on our customers obtaining correct measurements, this is why we offer a Free UK Returns service.
Bra Size Calculator
Underbust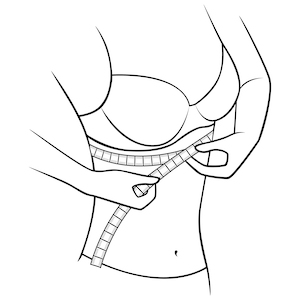 Overbust