Anita - Over 130 Years of Luxury Lingerie
Need Undies are proud to stock a wide range of Anita luxury lingerie, designed for women of all shapes and sizes. Founded in 1886, Anita has formed a name that means luxury, high-quality and class. When you purchase an Anita bra, you benefit from an outstanding fit and performance.
Who is Anita
Anita are, in the eyes of many, the number one choice for luxury lingerie. The company was founded by Ernst Max Helbig in Dresden, Germany in 1886, initially focused on the production of suspenders and products for specialised medical requirements. It wouldn't be long, however, until the company turned its attention to women's lingerie, producing garters, corsets and girdles.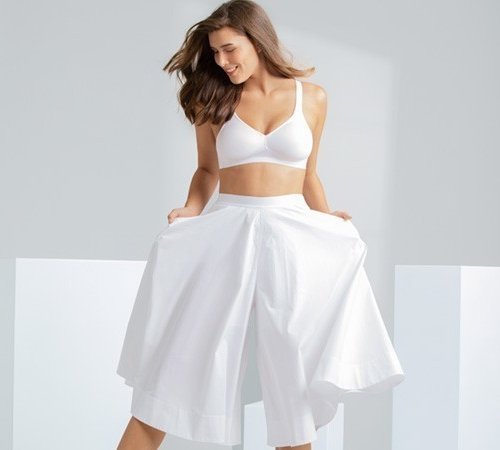 Then, Anita would move into making some of the very first bras, which would hold very little resemblance to the stunning pieces that you can buy from our website today. Instead, these bras were not designed to flatter a woman's curves but to hide them altogether! The flatter the wearer appeared, the better, with the ultimate goal to showcase a womanly waist.
Of course, as time and fashions have changed (meaning that women are no longer expected to wear in the region of five pounds of underwear), the bras produced by Anita evolved into what we know and love today. Beautifully designed pieces that not only make the wearer feel beautiful, confident and sexy, but also offering the support not afforded by other bras on the market. Ask any woman and she knows all too well the importance of wearing underwear that offers her the support that she needs throughout a busy day.
Anita Care
Under the stewardship of Dr Christine Weber-Unger, Anita moved into niche markets aimed at pregnancy and nursing. It is as this time that the first moves were made into the Anita Care product range, which is a bra designed for women who have undergone a full or partial mastectomy.
This proved to be a highly popular product within the brand's range and still is today, with Need Undies stocking Anita Care bras on our website. It is also worth noting that any woman who has undergone a full or partial mastectomy is eligible for VAT exemption of any Anita Care bra for their own usage.
When a woman undergoes a full or partial mastectomy, she may feel less feminine and/or lose confidence in her body. What an Anita Care bra does is help the wearer regain her confidence, as well as offering supreme comfort which is ideal post-surgery, when the skin is likely to be at its most sensitive.
Anita Goes Global
Up until the 1990s, Anita was exclusively operating from Germany. Georg Weber-Unger, who became CEO in 1990, made the decision to expand the company's reach by setting up sales subsidiaries in the United Kingdom, France, Switzerland and the Netherlands, as well as production facilities in Portugal, Austria and the Czech Republic.
Moving into the 21st century and the company's expansion showed no signs of slowing down, as Anita moved into the United States of America, Belgium, Poland and Spain, as well as further production sites in Thailand and Myanmar.
The Anita Range
The Anita range is made up of five core product lines, all of which are sold by Need Undies. These are:
Anita Active
Anita Care
Anita Comfort
Anita Maternity
Rosa Faia
The goal is a simple one, to provide a woman with all of the care and support she needs in her bra, no matter the situation. Whether she is lounging around the house, wanting to feel sexy, working up a sweat at the gym, her body is going through pregnancy changes or has undergone mastectomy surgery, the perfect bra can be found in the Anita range.
It is for this reason why Anita has built the name it enjoys today, more than 130 years after Ernst Max Helbig first founded the company. No matter the size and stature of the woman, whether she is curvaceous, petite or somewhere in between, Anita bras are the ideal solution for elegance and comfort.
Buying from Need Undies
For all of the reason as we have explained, Need Undies is proud to be an official stockist of Anita. All ranges of Anita bras can be purchased via our website today and, with free deliveries on all UK orders over £50, why not add an Anita bra to your lingerie collection?
Now you know where to buy Anita Bras, if you have any questions regarding the collections on sale at Need Undies, or any of the other products you can find on our website, please do not hesitate to get in touch with a member of our team.