All You Need To Know About Front Fastening Bras
As the name suggests, front fastening bras are designed to function like regular bras yet have a front fastening. You may have also heard them referred to as front opening bras or front closing bras depending on the retailer. Fastenings come in an array of styles to suits a variety of different needs, from classic hooks and eyes to poppers, buttons and Velcro. Whatever your preference, there is a front fastening bra out there for you!
- View Our Complete Front Fastening Bras Collection
Why are they amazing?
One of the best things about front fastening bras is the ease of application that they offer wearers. Rather than having to reach back and stretch your arms trying to secure your bra, the front fastening feature lets you complete the process from the comfort of your chest area. This makes them amazing for anyone suffering from physical disabilities, shoulder problems and painful conditions such as arthritis.
They are also loved by post-surgery patients who find the front fastening option much easier than regular back clips. The Anita Front Fastening Sports Bra 5523 is a wonderful front fastening bra which is ideal for initial post mastectomy prosthesis fitting. Made from amazingly super soft microfibre fabric, the bra features soft arm bands, padded shoulder straps, flat buttons and a front Velcro fastening for the ultimate in post-op comfort.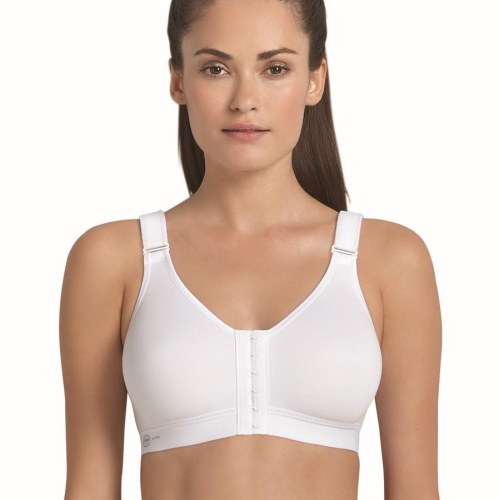 What else are they great for?
As well as offering a solution to physical impairments, front fastening bras are also great as they allow for versatile back cut designs that aren't possible with conventional bras. If you love racer backs but hate the way they put bra straps on show, why not invest in a Triumph Triaction Wellness Front Fastening Sports Bra?.
The microfibre moisture wicking fabric makes it perfect for medium impact sports such as athletics and horse riding, the five front popper style buttons and clip fastening offer unyielding support and the racer back styling ensures no visible bra straps. Problem solved!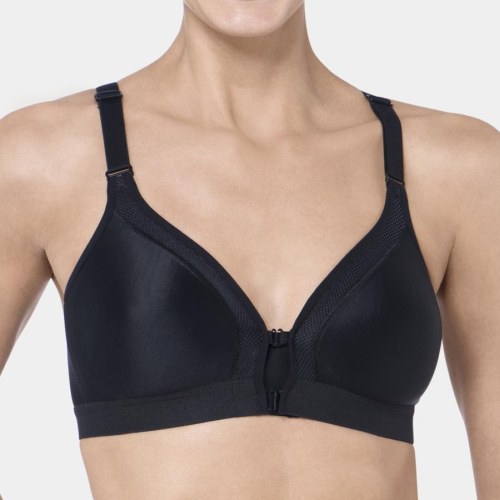 Are they still stylish?
Yes! While front fastening bras are usually associated with comfort and functionality, that doesn't mean they have to compromise on style. The Anita Mylena Front Fasten Bra is living proof of this statement, the camisole form, sexy lace detail and tummy reinforcement qualities working to shape the figure and keep you looking gorgeously trim and wonderfully comfy! Front fastening bras also come in a range of colours which means you can perfectly coordinate them with any outfit!.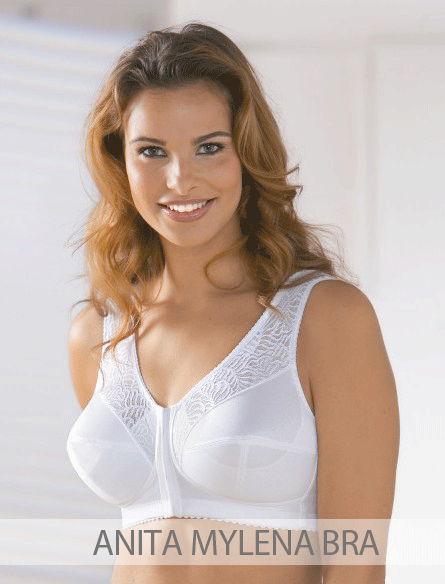 When were they first invented?
While no brand claims to have pioneered the front fastening bra, the concept first came to light as a post-operative comfort solution for women undergoing breast surgery. Their success saw them skyrocket in popularity with other women suffering from physical issues such as broken limbs, arthritis and other surgeries.
Whether you're experiencing physical difficulties, want to avoid showing off unwanted bra straps simply love the unique look, front fastening bras are a great lingerie option for women of all shapes and sizes. They are stylish, supportive, functional and versatile enough to be worn as a one off or for everyday wear!