Sometimes what's on the inside can have an affect on the outside. When you're feeling super, it translates onto the outside, where you have a gleaming smile constantly transfixed on your face, and everyone notices! The same can be the same with underwear. Ill-fitting underwear can be irritating, uncomfortable and will definitely make your day that little bit harder.
But don't worry, we have a plethora of perfect underwear to suit your body shape and style. Not everyone is the same, and the same goes for underwear. With the summer sun splendidly casting down its glittering rays over the UK this summer, take advantage of the summer heat by investing in women's long leg knickers that will not only give you confidence, but stop that uncomfortable chafing when you want to wear your favourite maxi dresses or skirts.
Be Style Confident This Summer
There is nothing worse than having to change what you want to wear due to not having the right underwear. Even having a VPL (visible panty line, ladies) can mean having to change your whole outfit completely.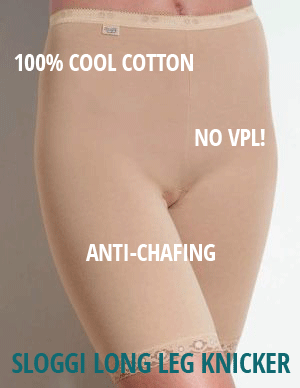 It shouldn't be like this. Surely changing your knickers is easier than changing everything else around it. With this in mind, we have a range of long leg knickers (yes, no VPL with these!) which means you can wear whatever you fancy this summer, without having to worry about some irksome reservations that may come with wearing certain underwear. With a variety of the biggest brands making some stylish yet comfortable knickers, such as Sloggi, Naturana and Brettles, there's no need to worry about a 'one size fits all' mentality, as they come in an assortment of lengths and styles to suit you.
Stop The Rub!
Although chaffing isn't desirable, unfortunately it's a very real reality for many of us. Why endure the suffering and the very painful rash that can occur due to rubbing (referred to as 'chub rub' by some women!), especially in the summer, when you can eliminate it all by investing in a pair of women's long leg knickers? It will transform your summer so that you can enjoy a pain-free walk in the park, a night on the town and can stop you spending money on treatments and products such as talcum powder, lancane and rash creams. These products only treat the symptoms, get straight to the root of the issue and alleviate chafing by buying long leg knickers.
Easy on the Purse
Another excellent aspect of buying a pair of long leg women's knickers is that it's affordable. No need to worry about spending a massive amount on an under garment solution, but search through our selection of knickers that are not only excellent quality, but easy on the purse too.
There has never been a better time to grab a pair of long leg knickers, and at a great price too, so make the most of this summer by getting out there with the right underwear on and feel excellent both on the inside and out!.

View Our Long Leg Knicker ranges From Sloggi, Naturana & Brettles