Quality or Quantity? A Guide to Everyday Underwear
Quality or Quantity? A Guide to Everyday Underwear
When talking about underwear, it's easy to believe you need to pay over the odds for luxury brands while scrimping on everyday choices.
However, it's important to remember that your everyday underwear is as important, if not more important than high brand occasion wear especially because you'll wear and wash a lot more than those pieces saved for special moments.
While we all love to indulge in beautiful lingerie that feel truly luxurious, it makes more sense to splurge on intimates that will be in more regular rotation. Usually, the more you wash a garment the more the colours will fade and the more wear and tear will begin to take its toll. If you go for the cheapest option, the low quality of the material will soon start to show, often after just one or two encounters with your favourite detergent.
How often should you replace everyday lingerie?
As a general rule of thumb, you should replenish everyday underwear around every six to eight months. If it's is used and bought so regularly, is it really worth spending more for a better quality item? Of course!
The smartest shoppers and savviest fashionistas know that the most successful purchases come when you can find a balance between affordability and value. Everyday briefs don't have to be of fantastic quality with a huge price tag but they should be durable and well made.
Ideally you want to spend around £12 - £30 for a decent set of everyday underwear. Brands such as Sloggi offer both comfort and quality, but are also stylish and fashionable. Their Romance range has the design of high end occasion wear paired with a reasonable price tag, helping to make boring Mondays or never ending Wednesdays a bit more sophisticated on the inside at least!
What is the Difference between Everyday and Luxury?
Everyday underwear is usually made out of cotton. Cotton briefs and shorts let the skin breathe and are more hygienic than thongs for daily use. Luxury lingerie is made out of a variety of materials such as silk, satin or lace, which is not always practical for the school run or long days at the office.
Before buying, see what the material feels like against your skin. If it's too thin or too thick, look for something else. Too thick material means the skin can't breathe which can lead to irritation and unsightly rashes, spots or dry, flaky patches. . In contrast, Lycra, micro-fibre and high quality polyesters all make excellent choices. Sloggi's 'Feel Natural' range is made from soft micro modal fabric, providing comfort all day long.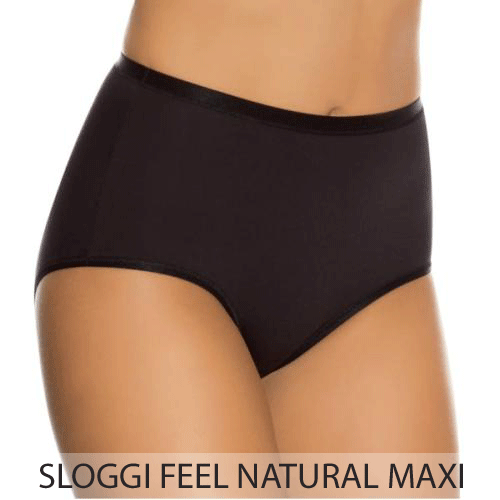 What to Look for in a Bra
It's easy to fall into a rut when you're bra shopping. You may not invest in new bras as often as you buy other items but, it's important to have a professional fitting at least once a year. Even if they don't seem to have any problems, it's important to make sure a bra fits properly and securely. A recent survey found that 70% of women are wearing the wrong sized bra and with ill-fitting bras leading to problems like back-pain, breast pain, even skin rashes and neck pain, the 10 minutes it takes to book a fitting is well worth it.
It isn't just the size of the bra that matters either, you want to find a style of bra that suits you and your shape, such as T-shirt bras if you don't want any push up or a padded bra for more support. Whilst having a bra fitting, tell the person measuring you what the bra will be used for, whether you're shopping for daily use or occasion wear to get a better idea of what suits you, what fits properly and what shape works with your body.
For a decent everyday bra you should look to spend between £10 - £35 for simple designs and styles.
Lingerie experts, Triumph have focused on enhancing women's curves for decades, so even in briefs and shorts women can feel sexy in shape flattering underwear. They excel in design and have banished the unsightly bra-bumps caused by the underwiring with their Magic Wire range – perfect if you want a seamless silhouette day in, day out.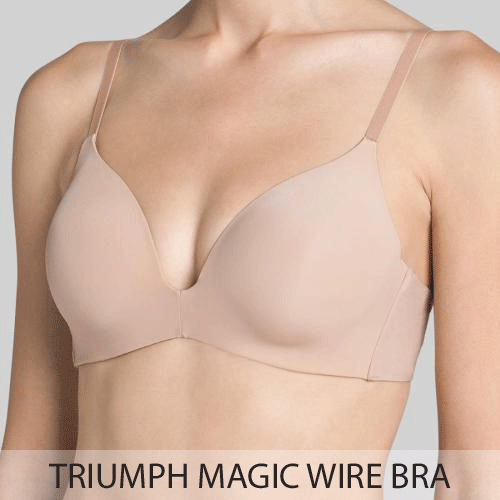 Regular gym goer? A sports bra should be a priority for women as regular day bras don't offer the support needed during a workout. Thankfully, sports bras are of a similar price range to normal bras. However, just like their daily counterparts, make sure they are well fitted and comfortable with the right impact and absorbency for the kind of exercise you'll be doing.
What About Men?
It is recommended that men buy new underwear at least every four to six months. Don't wait for your boxers to be hanging on by a thread! Budget around £10 for a decent pack of brief and just like bras for women, ensure that they fit well as poor fitting briefs and tight elastic can lead to skin rashes around the waist. Hipsters are also a good alternative for men, offering the loose fit of boxer shorts paired with the support of briefs.
Stick to cotton for everyday wear if possible; it's breathable and will reduce sweat. A simple tip to reduce the risk of irritation for both men and women is to cut off the tags with size and washing instructions.
It may be tempting to choose style over comfort, but remember that your bikinis, thongs, briefs, boxers, French cut, boy shorts, bras and camisoles sit closest to your skin all day long!
Often, comfort and style can go hand in hand as more and more brands are designing their everyday underwear to be more fashionable. Women also do not have to sacrifice tight hugging clothes for the sake of visible panty lines either! There are now plenty of products offering a seamless style that lie flat around the waist. There have also been lots of advances in shapewear making it more comfortable and with breathable fabrics.
Paying for a good quality set of underwear does not have to be expensive and there are a variety of brands that offer a fantastic range for everyday use at prices that won't break the bank.
Do you have any tips for buying underwear for everyday use? Do you have no idea where to start and want some advice on where to start looking? Simply get in touch!