Choosing The Best Bridal Underwear & Lingerie
So, you have set the date, you have picked your rings and bought the all important dress, but what about what goes under the dress? Every bride wants to feel amazing on her wedding day and she is highly likely to want a new set of underwear but with so many different options it can be difficult to choose what to wear underneath. Just recently married myself, I understand what it's like to go through all the planning stress and I have seen and tried the various styles of wedding dresses on. Having worked in the lingerie retail sector for a number of years I thought I would combine my two experiences to put together a guide on choosing the right underwear for under your dress.

Shapewear
If you want to streamline your figure under your wedding dress then try light to medium control shapewear, be careful to make sure that the shapewear is smoothing your curves not squishing them to other areas! Look out for styles which have been laser cut as they will have no seams and also for styles which have a silicone edging as this will prevent the item from moving out of place and potentially gathering up.
Fishtail/Mermaid/Trumpet dress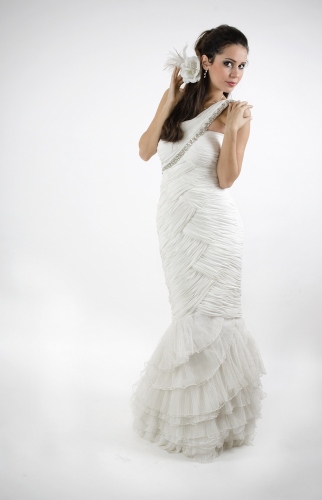 If your dress is a mermaid or fishtail style and you wish to slim the hip and bottom area then try a long leg pant. The long leg pant will work perfectly to contour the troublesome areas and there should be no visible seams where the pant leg ends lower-thigh as this is where the dress will begin to flare outwards.
If you do not need shapewear and are wondering what briefs to wear under your dress, seek laser cut underwear styles and I'd definitely recommend wearing a thong/string to eliminate possible VPL.
Bare legs are advisable under this style of dress, as suspenders and stockings are very tricky under fitted garments and hold ups may rub together and work themselves loose therefore losing grip and ultimately dropping to the floor!
Sweetheart Neckline dress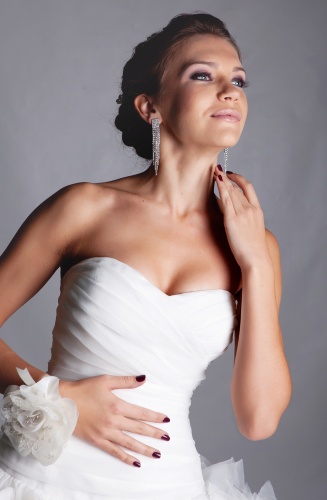 Generally wedding dresses are boned and have been designed to support the bust without the need for a bra, however if you would feel more supported and comfortable wearing a bra then I'd suggest opting for a strapless bra which has a plunge front. Plunge cups will ensure that your bra does not escape from underneath the dress neckline during your wedding day.
Column wedding dress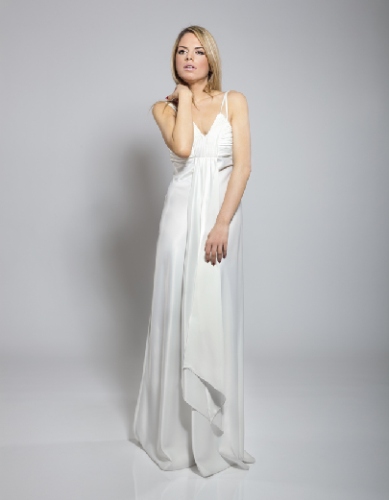 As column/sheath wedding dresses are usually body-hugging and straight cut you need to have almost invisible underwear underneath as any bump or ridge under one of these dresses is going to be noticeable! Look out for underwear which has been laser cut so there are no seams and try stick to natural/nude underwear as white or coloured underwear may be visible; the materials tend to be lightweight and sit close on the skin. I'd also recommend nipple pasties or stick on bra cups so there are no straps or bra fastenings visible.
I would advise either bare legs or very fine natural coloured hold ups underneath a column wedding dress as a suspender and its clips would be too visible.
A-Line/Princess/Ball gown dress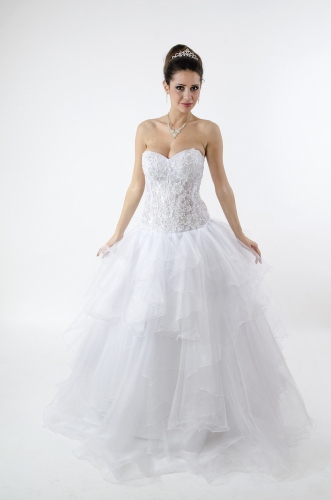 These dresses all feature fitted bodices and flare out from the top of the hips into a wide skirt. As mentioned before wedding dress bodices are often boned and structured to shape the waistline and support the bust. However, if you have small breasts and wish to emphasize your bust then opt for a strapless bra with push up pads/cookies in the bottom of the cups. Alternatively ask your seamstress if she can sew additional padding into the cup area of the bodice, these are called 'sew in cups' if you need to provide them.
You can wear any type of briefs, which you feel you will be comfortable in, underneath an Aline/Princess/Ball gown dress as your skirt will feature petticoat layers to give it volume.
Hosiery is an entirely free choice as it will not be seen however; my only recommendation is that it can get quite warm wearing a full skirted wedding dress! If you have booked your wedding during the warmer months you may want to go for bare legs, if your wedding is during the cooler months, try hold ups or stockings with a higher denier.

View Our Bridal Shapewear Collection From Bodywrap Bride